I really love the historical characters of American Girl so I thought it would be fun to feature a doll each month and find some inspiring things about them and their times.
We will feature some recipes, crafts and a few more fun ideas . Kit has always been my favorite doll so she is the perfect place for me to start. She was the first doll I ever got brand new from American Girl and that was only three years ago !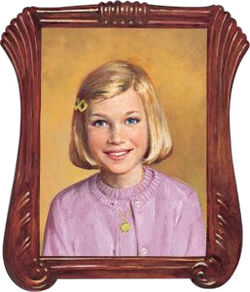 Kit lives in the 1930's and she dreams of becoming a writer. Her dad loses his job and he must take a new job in a different city. To make ends meet her mom takes in boarders. Kit has many adventures with her friends and even solves a few mysteries throughout her book series.
Kit's Books
Meet Kit: An American Girl
Kit Learns a Lesson: A School Story
Kit's Surprise: A Christmas Story
Happy Birthday, Kit!: A Springtime Story
Kit Saves The Day: A Summer Story
Changes for Kit: A Winter Story
Facts about Kit:
Family
Margaret Kittredge: Kit's mother
Jack Kittredge: Kit's father.
Charles Kittredge: Kit's older brother.
Uncle Hendrick: Mother's wealthy, disapproving uncle.
Friends and Other Minor Characters
Stirling Howard: Kit's close friend and boarder.
Ruthie Smithens: Kit's best friend.
Louise Howard: Stirling's mother and boarder.
Roger: A classmate in Kit's class.
Aunt Millie: An older lady from Kentucky who cared for Kit's father as a child
Will Shepherd: A young hobo from Texas.
Face Mold: Classic Mold
Skin: Light
Kit has freckles across the nose and cheeks.
Hair: Blond, shoulder length; side part, no bangs.
Eyes: Dark Blue
Meet Outfit
Lavender-pink sweater and cardigan set
Purple flower-print skirt
White bloomers
Cream canvas sandals
Green diamond hair barrette
Meet Accessories
White crocheted cloche hat with green ribbon & bow
Straw clutch purse
Buffalo nickel
Compass necklace
Handkerchief
Kit was the first new Historical character released once Mattel had taken over American Girl.
Kit was the first character and Historical Character pictured with short hair.
Kit was the first character whose doll was released with freckles.
Kit's address is 229 Abbot Place.